Soltis 92 Perform Shade Mesh Range
Soltis 92 Perform Shade Mesh Range has A wide range of options are available to meet every shading and cooling need, from view-thru to privacy, waterproof to airflow, and light filtration to blackout. Soltis mesh fabrics may be used both indoors or out (indoor blinds, exterior zip screens, tensile shades) for easy coordination. Awning and pergola covers may be smooth and colorful, or in neutral colors with a natural effect.
Soltis 92 Perform Shade Mesh Range acts as an effective thermal shield. It blocks up to 97% of the heat when placed outside. Available in 48 colours, this micro-perforated screen offers the best thermal performance available.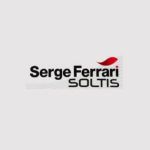 Soltis 92 shade mesh, ideal for covering windows skylights and tensile structures.